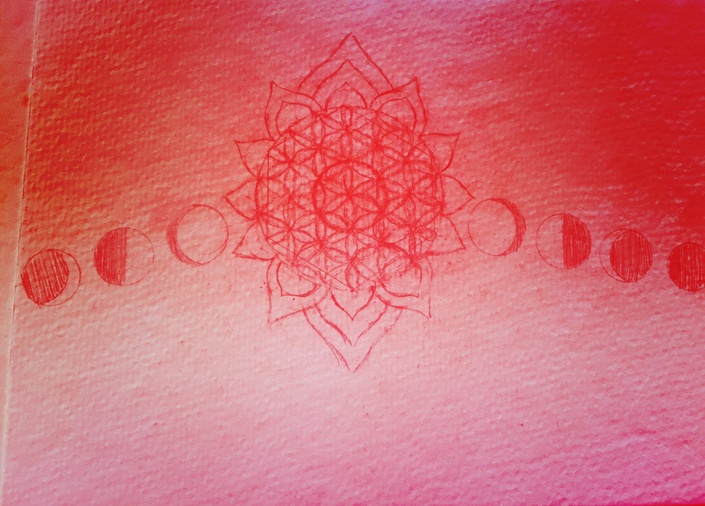 Living your Creative Rhythm
Study and Embody the Creative Wisdom of your Menstrual Cycle
Enroll in Course
Recommended Pacing for this course:
Complete 1 section every 2-3 weeks. You can easily spend 1 month in each section.
Go slow. Leave space for integration. do not rush.
Go in order. Each class builds on itself.
time to completion: 3-12 months
let it gestate
---
Get the Education you never got about the cycles of life and your Menstrual Cycle.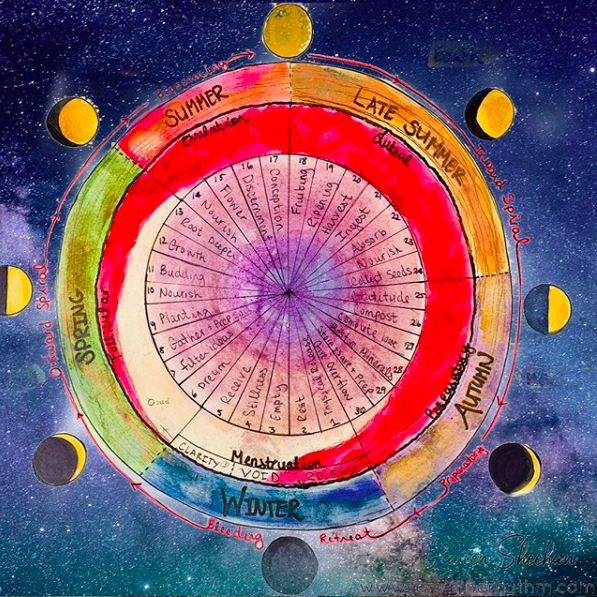 Are you experiencing issues or even severe illness with your cycle or reproductive organs ( endometriosis, PCOS, infertility issues, severe PMS) ?
Are you almost into your menopausal years and beginning to experience the symptoms that come with that?
Are you trying to conceive a child?
Are you feeling overwhelmed with the pace of your life and family?
Did you just decide to get off birth control or are you in process of deciding?
Are you grieving a loss, a break up, or a great transition?
Ready to make space for a new partner, career, or aspect of your soul?
Do you want to bring more depth and connection to your current sexual partnership?
Do you want to have a strong, reliable, and sustainable guide for your creativity?
All of these are great reasons to study the wisdom of your menstrual cycle, the lunar cycles, and the seasons : your rhythm as a woman.
Transform your relationship to your body and cycle in an 8 week course in exploring the art of living and mapping your menstrual cycle. This class is about learning to cultivate honor and sacredness in your daily life by learning to honor the most innate cycle your body has.
The Cycle of your body is sacred. It is your creative rhythm and it contains gifts that you can use in practical ways to be the heart of your life, family, career, and home.
Come learn how to flow with it instead of against it.
You'll gain an in depth understanding of the 5 Phases of the Menstrual Cycle and how each phase can look, feel, and be experienced in your life. You'll learn about the seasons and the lunar cycle and practice using these tools to help you live in sync with your body and nature.
You'll create a foundation to relate to your phase of life and cycle ( whether you're healing health issues, coming closer to menopause, trying to conceive, or wanting to avoid pregnancy but create a deeply intimate experience with your sexual partner)
You'll understand how your hormonal system works and learn various practices and tools to support your own health ( meditations, movements, foods, herbal remedies etc) .
I'll share with you how to listen deeply to your body's wisdom and begin to make choices in your life from that place. From this wisdom, you will gain the ability to track and map your own body's natural rhythms and understand the messages for aligning yourself with the most sustainable and pleasurable way of living.
By participating in this course you'll have a dedicated space to learn the art of cycle mapping, engaging your feminine essence and inner wisdom as well as the energy of a group of women all dedicated to this study through our ongoing private facebook group.
Your Instructor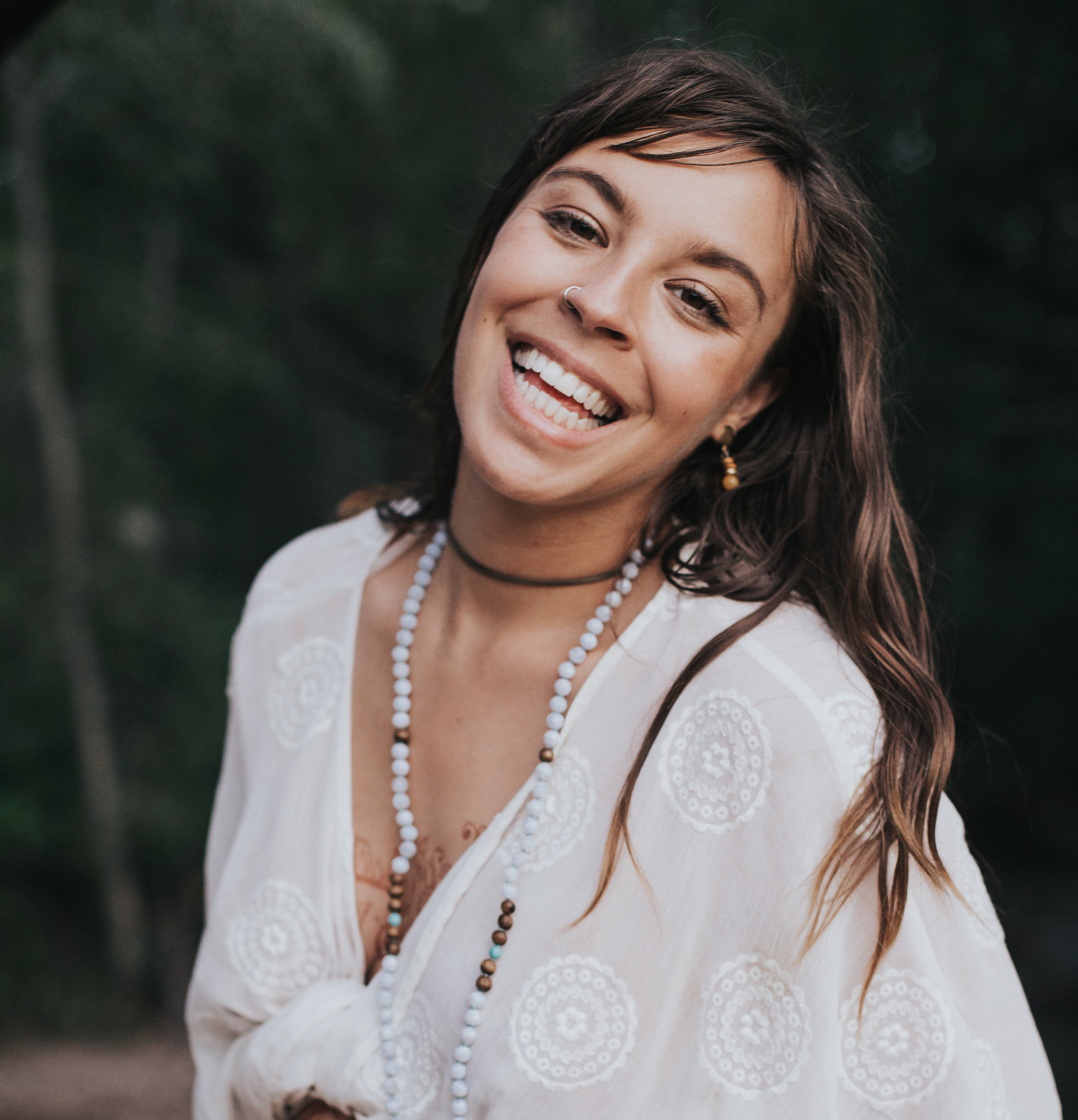 The work Lauren stewards, which she calls "The Feminine Rhythm", is a call to women to remember how to honor, care for, and respect the beauty of their female bodies, souls and natural cycles. Her passion is to inspire women to make lives that mean something to them and remember the deep art of slowness, presence, care and nurturing that come from the feminine spirit.
Her work helps women who want to heal from shame, wounding, trauma to her feminine creative center and find sustainable self acceptance, the ability to love and be loved by others, experience pleasure, orgasm, healthy sexuality, confidence and to clearly communicate her needs, desires, and boundaries to those around her. (Female Creative Center Wounds include: Grief from failed relationships, loss, death, birth trauma, eating disorders, infertility, lost feminine organs, sexual trauma, menstrual disorders, adrenal fatigue etc)
She'll teach you sustainable practices to awaken your sensuality, your creativity, and to couragously slow down and honor your body as sacred.
She'll help you navigate your way back to natural kindness towards yourself, wisdom in living in sync with your cycles, and cultivating healthy loving partnerships.
By cultivating a tangible love for self, trusting our own bodies, and healing patterns and wounds that leave us untrusting, over giving, shut down, bitter, exhausted and resentful, women can learn to let their bodies be the spiritual guide they are meant to be and experience their natural joy, creativity, and generosity.
She mentors a small number of women privately, holds seasonal retreats and teaches classes on the menstrual cycle and understanding the femaie landscape and energy system.
She has been teaching and studying this work for 10 years and continues to live it in her daily life growing a family and learning to love and be loved in Colorado.
You can find her and her free 5 day audio course on feminine presence at www.femininerhythm.com
Course Curriculum
Welcome and Start Here
Available in days
days after you enroll
Where the Rhythm Begins
Available in days
days after you enroll
Week 1: How to Cycle Witness
Available in days
days after you enroll
Frequently Asked Questions
When does the course start and finish?
The course starts now and never ends! It is a completely self-paced online course - it starts as soon as you pay and register, and you have access to it for as long as your subscription period is alive and well.
How long do I have access to the course?
After enrolling, you have unlimited access to this course for as long as youre a paid subscribing membe or lifetime access memberr - across any and all devices you own.
What if I am unhappy with the course?( our refund policy)
If you are unsatisfied with your purchase, you can cancel your monthly membership at anytime. No refunds will be given for months already paid on monthly memberships. If you are a lifetime member, you have 24 hours after purchase to request a refund.
---
This course is offered on a sliding scale starting at $8, $13, $22, $33, and $55 a month. You may change your price selection at anytime and cancel at any time.